Toover Unn


Vital Statistics
Gender
Male
Race
Wererat
Faction
The Dead Rats
Status
Alive
Location
Protector's Enclave
Toover Un is a wererat merchant who can be found during the quest Spellburst. When asked why he isn't hostile like the other Dead Rats in the sewers, he explains that he is a well-known coward and would probably not be blamed for not fighting the adventurer. That being said, he'd rather do business, so his shop can be used by the adventurer.
Inventory
Edit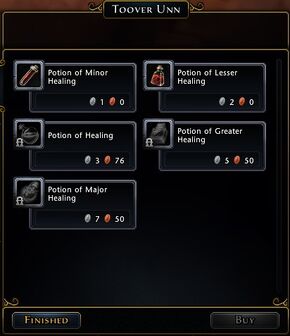 Ad blocker interference detected!
Wikia is a free-to-use site that makes money from advertising. We have a modified experience for viewers using ad blockers

Wikia is not accessible if you've made further modifications. Remove the custom ad blocker rule(s) and the page will load as expected.