Scrying Stone
Talk

0
553pages on
this wiki
Scrying Stones
are found in many areas. When interacted with, they give an aerial view of the local area they are situated in.
While this view follows a predefined camera motion, it is actually a live image, as sometimes other players can be seen in it. Using all Scrying Stones of an area is an exploration achievement.
Note: Some of the location names are the actual map names. Use the coordinates, can't go wrong there.
Known Scrying Stones:
Blacklake (262, 1988) - Next to the row boat that is next to the first broken ship.
The Tatters (780, 2248) - Near the broken bridge.
Lakeside (522, 1590) - Behind a tree and a bush
Broken Crown Inn (730, 160) - On the other side of the lake behind the inn.
Raven Cliff Beach (-599, 105) - On top of the cave at the lowest area of the beach.
Blackdagger Keep (506, 1303) - At the main gate of the keep,, look down the ledge after going up the ramp.
Craftman's Rest (659, 57) – Behind the left row of statues.
Pauper's Field (-344, -265) – On top of a boulder to the right of the bridge that leads to the left corner of the map.
Graveyard of Neverdeath (142, -496) – Hidden by tree on stone ledge near campfire.
Thunder Ridge (3093, 2199) – Hidden behind tree on your right.
Hunter's Path (2840, 1832) – Hidden behind tree on top of rocks.
Elder Rock (2668, 3293) – Hidden behind tree on 1st stone ledge on your right.
The Wreck (918, 1655) – On a huge rock.
Skull Fortress (2200, 1905) – On the ledge overlooking the waterfall
Market Square (3229, 2063) - On the back of the building
Icepire Peak (2135, 760) – On top of wooden structure near the top right corner of Prospector Ridge.
Lakkar's Folly (2119, 3673) - Just before Icespire's Frozen Heart. guarded by a Grunt an Wolf.
Fallen Axe Bridge (2651, 3030) - On the ledge before the bridge.
Field of Nightmares (-13069, -1124) – Behind a wall in the NE corner on a ledge at the second camp, Fort Precipice (first area).
Cathedral of Madness (-19, 689) – Inside the top of a house at the Unhallowed Grounds(second area).
The Crystal Caves (13359, -1810) – To the left in a ledge after exiting the first camp(third area).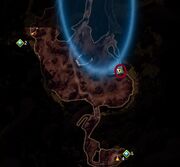 Fireguard Fortress (763, 1598) – To the right side below the start of the bridge leading to the last camp.
Hotenow Caldera (1168, 966) – On a ledge above a small lava pool.
New Sharandar (2814,990) – On the right at the end of the entrance ramp.
Heart of the Grove (1411,856) – Left of the end of the bridge, behind a hill.
Barbican Ruins (904,3456) - Right side of the wall on top left corner of the map
Skull of Lorragauth (2579,2479) – On the Top of the Gate
The Excavation (2011,2895) - look up
The Dread Spire (2519, 1966) - Jump over spikes and walk along the edge of cliff.