Medium Palomino Horse

Edit

Type:
Mount
Quality:
Rare
Level Requirement:
20
Sale Value:
Cannot sell
A common horse breed, seen frequently in use by adventurers and as pack and work animals. This one is heavily armored.
Medium Palomino Horse can be purchased for 2000

from Zen Market.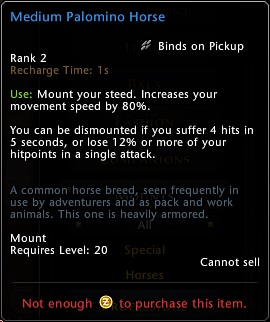 Ad blocker interference detected!
Wikia is a free-to-use site that makes money from advertising. We have a modified experience for viewers using ad blockers

Wikia is not accessible if you've made further modifications. Remove the custom ad blocker rule(s) and the page will load as expected.