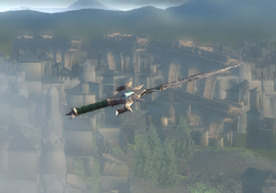 "Wicked-looking magical blades that slash through the air to attack your enemies."
Information
Edit
Quality: Rare (Blue)
Type: Striker
Cost: 14,000 Glory
Powers: Stab and Blade Furry
Equipment Slots: Sword Knot, Sword Knot, Sword Knot
Runestone Slots: Offense, Offense, Offense
Other Details
Edit
It can be Bought from the Emporium Vendor
Currently, Jagged Dancing Blade's max level is 25
It is currently the only companion obtainable through PvP
Ad blocker interference detected!
Wikia is a free-to-use site that makes money from advertising. We have a modified experience for viewers using ad blockers

Wikia is not accessible if you've made further modifications. Remove the custom ad blocker rule(s) and the page will load as expected.