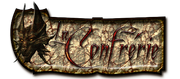 Guild 'La Confrérie' was created at the launch of NW, we were 5 at the beginnnig and now around 30 people are with us. We are recruting gamers in function of their class, good mood and maturity!
We are not hardcore gamers even if some of us play a lot. Our philosophy is to progress together and spend good evening on TS with friends. 
Section heading
Edit
You can follow us on our website:
http://laconfrerieneverwinter.e-monsite.com/
Section heading
Edit
Logan and Keira are the GM you can contact them ingame by PM if needed :)  
Ad blocker interference detected!
Wikia is a free-to-use site that makes money from advertising. We have a modified experience for viewers using ad blockers

Wikia is not accessible if you've made further modifications. Remove the custom ad blocker rule(s) and the page will load as expected.