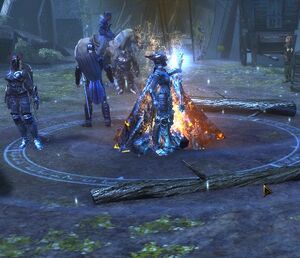 Campfires
can be found throughout the game. They are rest zones where you can use
Invocation
. When standing inside the radius, your health regenerates faster, though this will not work when in battle stance (thus, fighting next to a fire to auto-heal is not possible). They also act as a safe point. When you die, you are usually sent back to the last Campfire you stood in.
While Campfires are permanently fixed to a spot, there exists also a consumable item which is equivalent, allowing you to use most of a campfire's functions while travelling: the Portable Altar. This lets you use most of the Campfire's features, except it does not act as a safe point.
Ad blocker interference detected!
Wikia is a free-to-use site that makes money from advertising. We have a modified experience for viewers using ad blockers

Wikia is not accessible if you've made further modifications. Remove the custom ad blocker rule(s) and the page will load as expected.